Comedy
---

REVIEWS
By TOM SOTER
from VIDEO MAGAZINE, 1991-1996
THE LAUREL & HARDY CLASSIC COLLECTION
1991. Stan Laurel, Oliver Hardy; dir. various. Ten tapes, 60-80 min. ea. $9.98 ea. Video Treasures. If a roller skate was sitting at the top of a stairway, you can be sure Laurel & Hardy would wreck a house with it. And they'd also destroy the viewer -- with laughter.
Hail! Hail! Stan and Ollie are back. The crown princes of chaotic comedy (accidentally blowing up a house in Helpmates), side-splitting non-sequiturs (Laurel to Hardy: "You can lead a horse to water but a pencil must be lead"), and endearing silliness ("What's my temperature?" asks Ollie, not realizing Stan has used a barometer. Stan: "Wet and windy") have returned in The Laurel & Hardy Classic Collection, a 10-tape series which culls most of their best work in handsomely packaged gatefold boxes with extensive liner notes and five minutes of introductory home movies, narrated by Stan's daughter, Lois.
The films run the gamut from 1929 shorts to 1940 features and include some of the duo's greatest bits. There's Stan & Ollie as their own children (Brats) and wives (Twice Two); there's the hilarious odyssey of a piano going up and down (and up and down) 131 steps (the Academy Award-winning Music Box); and there's always Ollie's classic lament, "Here's another fine mess you've gotten me into."
Messes are Laurel & Hardy's specialty, but their well-meaning, almost sweet ineptitude makes them more endearing than contemporaries like the nasty Three Stooges. Stan and Ollie are as close as brothers, as simple as children, and as funny as can be. Don't miss them. But hurry -- for as Ollie says in Sons of the Desert, "To catch a Hardy, you have to get up very early in the morning." (To which Stan, naturally, replies: "What time?"August 1991
BONNIE SCOTLAND
PICK A STAR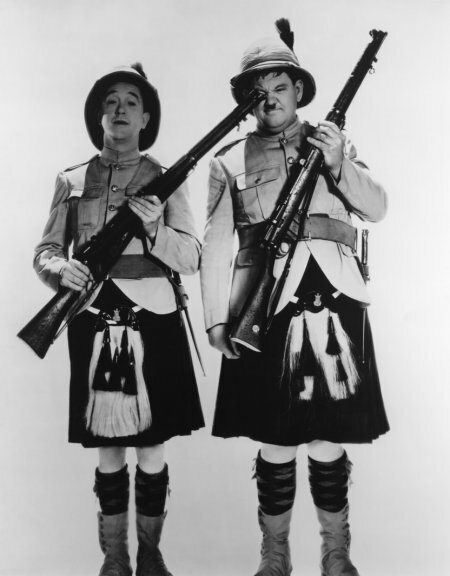 1935/1937. Stan Laurel, Oliver Hardy, Patsy Kelly, Jack Haley; dir. James W. Horne, Edward Sedgwick. 187 min. Digital sound. MGM/UA. As they did in their 105 movies together, Stan and Ollie endure. Their detractors may call them lowbrow, but their supporters are legion – ranging from Marcel Marceau and Alec Guinness to Graham Greene and Johnny Carson. They created character traits that became reassuringly familiar: Stan crying at a babyish high pitch during a crisis, Ollie looking into the camera in exasperation when Stan would do or say something particularly dumb. All these characteristics are in evidence in this "double feature" disc, more a ripoff than a treat, since Pick A Star, the lesser known of the two movies, actually features only 10 minutes of material by the team, which the producers added as box office insurance. No wonder: the story is plodding, Stan and Ollie the only signs of life. That's a pity, since Bonnie Scotland, which includes a charming dance number, amusing dialogue, and great pratfalls, is one of the boys' more delightful feature-length romps as the two travel to Scotland to claim an inheritance. They get it – but only Laurel & Hardy could then end up in India, in the army, running from a flock of bees. To paraphrase Ollie, another nice mess you should get into! 1993
SISTER ACT
1992. Whoopi Goldberg, Maggie Smith, Harvey Keitel, Kathy Najimy; dir. Emile Ardolino. 100 min. Touchstone.
This surprise hit of the summer has all the formula elements of past Disney successes – caricatures in place of people, zany chases, and an uplifting moral lesson – but, surprisingly, it works. Sister Act is a facile charmer, thanks primarily to Whoopi Goldberg's engaging performance as "Sister Mary Clarence," a murder witness on the run who is actually a Las Vegas singer hiding out in a rundown San Francisco convent. Although the idea's been done to death (most recently in Nuns on the Run) the cast, script, and direction bring a welcome freshness to the material. There are heavyweights involved – Harvey Keitel as a slimy gangster, Maggie Smith as a starchy headmistress – but the real standout is newcomer Kathy Najimy as a bubbly nun who considered becoming an airline stewardess before being called by God. The most charming plot twist is to have Whoopi take over as leader of the nuns' choir. Her Las Vegas-style staging of altered Motown tunes ("My Guy" becomes "My God") is infectious. The best gag, however, is a throwaway: when Sister Clarence ducks into a bar and is followed by two other nuns, one of the patrons complains to his pal, "If this becomes a nun's bar, I'm outta here." 1992
REDISCOVERING MYRNA LOY

1992 compilation featuring Penthouse (1933), The Prizefighter and the Lady (1933), Manhattan Melodrama (1934), I Love You Again (1940). Myrna Loy, William Powell, Clark Gable, Warner Baxter,Walter Huston, Max Baer; dir. W.S. Van Dyke II. Digital sound. 6 hours 19 min. CLV, 4 discs, 8 sides. MGM/UA. $99. In her day, she was dubbed the "Perfect Wife" and "The Queen of Hollywood," but today Myrna Loy is best known as the witty spouse of amateur sleuth William Powell in the ever-engaging Thin Man film series of 1934-47. Yet Loy made 60 movies before she ever quipped with Powell – fight pictures, gangster melodramas, screwball comedies, even a turn as Fu Manchu's daughter – and some of that wealth is now available in Rediscovering Myrna Loy, a handsome four-disc set. Three of the four are pre-Thin Man, yet all demonstrate the qualities that brought Loy to the attention of Thin Man director W.S. Van Dyke: beauty, brains, and a charming no-nonsense style as engaging as it is timeless. Loy's personality always shines through, no matter how hokey or varied the material, and Rediscovering is less a collection of the actress's best than a storehouse of historical curiosities: Penthouse (1933), a humorless murder "mystery" with Loy in a familiar early role – the lady as a vamp; The Prizefighter and the Lady (1933), a sudsy love story, with real-life boxer Max Baer demonstrating he could box better than he could act; Manhattan Melodrama (1934), the first of her 13 movies with Powell, a heavy-handed gangster story about two boyhood pals who grow up to be on opposing sides of the law (one is played by Mickey Rooney who later becomes Clark Gable!); and I Love You Again (1940), the best of the lot, a formulaic yet charming screwball farce, in which amnesiac Powell woos and wins Loy in some of the wittiest love-making of its kind. Rediscovering Myrna Loy is a tribute to a show biz legend who was sharp, graceful, and intelligent even when the movies were dopey. In a period when many women were considered icons or bubblebrains, that's no small accomplishment. 1992

HOW TO IRRITATE PEOPLE
1968. John Cleese, Graham Chapman, Michael Palin, Connie Booth; dir. Ian Fordyce; 65 min. $19.95. White Star Video. Monty Python's Flying Circus archivists will be thrilled with this discovery, a little-seen 1968 TV collection of pre-Python Pythonesque sketches featuring John (Minister of Silly Walks) Cleese, Graham (Brian of Nazareth) Chapman, and Michael ("No One Expects the Spanish Inquisition") Palin (the trio is joined by three others, including Connie Booth, the long-suffering Polly of Cleese's later Fawlty Towers). The bits, generally more straightforward and less zany than those on the Flying Circus, are all introduced by host Cleese in the deadpan manner of a typical "How to" guide, appropriately enough, since the point of most of the pieces is to offer "a few' hints on how to help people become more neurotic." The targets include parents who talk while you're trying to watch TV, insufferably polite boyfriends, and groveling waiters. The spots themselves are uneven, ranging from very funny to dull, but there are some amazing curiosities: the prototype for the famous "Dead Parrot" sketch (this time, a man tries to return an obviously faulty car instead of an obviously dead parrot), the first appearance of the shrill Pepperpot-shaped women (played by men in drag), and a weirdly funny job interview sketch that was revived, recast, and redone almost verbatim in the Python show itself. Through it all, Cleese acts as a commentator, mocking the self-help industry with the aplomb of a man who would later transform suppressed rage and passive aggression into a hilarious art form. How to Irritate People may not be top-notch comedy, but it is a wonderful look at genius in the making. 1993
THE RETURN OF THE PINK PANTHER

1975. Peter Sellers, Christopher Plummer, Catherine Schell, Herbert Lom; dir. Blake Edwards. Hi-fi, cc; (G). 113 min. ITC Family Home Entertainment Theatre.
This good-natured live action cartoon returned Peter Sellers to the role of bumbling Inspector Clouseau after a nine-year absence. Released to coincide with the new theatrical Son of the Pink Panther, the older film finds the original Clouseau up to his old tricks: tripping over chords, smashing through tables, doors, and walls, and generally wreaking havoc wherever he goes in shtick that was old when Laurel and Hardy were young. It doesn't matter: Clouseau is a vaudeville comedy classic, who survives despite his mangled pronunciation of English ("I'd like a rheum" "A what?" "A rheum"), his hopeless pomposity, and his incredible ineptitude. Director Blake Edwards has fun staging the bits (which include two different vehicles crashing into a swimming pool and Clouseau struggling with an out-of-control vacuum cleaner), but he has more difficulty with the plot, a knock-off of Hitchcock's To Catch a Thief. Suave Christopher Plummer does do a dandy David Niven impersonation as the jewel thief falsely accused of stealing the famous Pink Panther gem and Herbert Lom is perfect as Clouseau's frustrated superior, but the real question (voiced by Lom) is "How can an idiot be a policeman?" Easy – if you're Peter Sellers, the real, and much missed, jewel of the series 1993
SPLITTING HEIRS
1993. Rick Moranis, Eric Idle, Barbara Hershey, John Cleese; dir. Robert Young. Digital stereo (PG-13) 87 min. MCA Universal Home Video. Monty Python alumnus Eric Idle is the perpetrator of this tired farce, a switched-at-birth black comedy with faint echoes of the brilliant Kind Hearts and Coronets. Idle wrote and stars in it as the protagonist, a befuddled innocent who has been cheated out of his rightful dukedom by brash American Rick Moranis. That's about all anyone but Python fanatics needs to know about the movie, a mechanical exercise in formulaic plotting that collects low-brow sight gags (nymphomaniac Barbara Hershey's jiggling breasts) with lame double-entendres ("They were getting on like a house on fire," says Idle after setting a house on fire). It's sad to see one of the architects of the zany over-the-top Python humor reaching for laughs via exploding houses, careening cars, and manure jokes (Idle jumps off a train and lands, face first, in cow dung). Most of the movie's best comedy is generated by ex-Python John Cleese. As the sleazy lawyer Shadgrind ("We're all a bit mad, aren't we?"), he parlays his Fawlty Towers brand of polite, suppressed rage into some hilarious moments. If Splitting Heirs had focused on him, there might have been a movie to laugh about. 1993
DENNIS THE MENACE


1993. Walter Matthau, Christopher Lloyd, Joan Plowright, Lea Thompson, Mason Gamble; dir. Nick Castle. Digital stereo (PG) 90 min. Warner Home Video. $24.98 .
Kids will love this juvenile comedy, a live action cartoon based on the popular Hank Ketcham comic strip. Dennis is a menace – and an obnoxious one, at that: a five-year-old moppet who never met an object he didn't destroy. The movie is meant to be a high-spirited romp, but it's really a formless mess – a series of violent gags strung together into a loose plot. Besides being misconceived – there is, after all, something wrong with a supposedly charming children's comedy where you feel sorry for the victims – the movie is a predictable bore. Screenwriter John Hughes, known for his teen comedies and the Home Alone flicks, relies heavily on kick-him-in-the-groin jokes and slapstick bits The Three Stooges would have rejected as too low-brow. The cast is adequate – the wonderful Joan Plowright turns up in a thankless supporting part – but the movie has no center. Mason Gamble's Dennis is so charmlessly irritating that you eventually wish he'd just disappear. In fact, there are so few real yucks that you actually begin wondering what kind of parents raised a brat like Dennis? Didn't anyone ever teach them about reform school? Or better yet, prison? 1993
SGT. BILKO
This big-screen reworking of the 1950s TV series You'll Never Get Rich plays like a Saturday Night Live alumni party. Steve Martin is at his outlandish best in the Phil Silvers role of Master Sgt. Ernie Bilko, con man extraordinaire, whose childhood dream was "to run the most sophisticated illegal gaming operation the United States army has ever seen." Other SNL graduates turn up with the regularity of bad sketch comedy: Dan Aykroyd as a dunderhead colonel, Phil Hartman as a slimy villain, and Chris Rock as a computer geek. The movie, which has something to do with revenge, shows how the wild and crazy Bilko and his goofy team of slobs outwit the uptight army. It's a formless hit-or-miss mess affair about greed run amuck, featuring big-budget action gags (explosions, super-destructive pratfalls, etc.), bed-wetting jokes, and a pointless pop rock score (Elvis sings "Viva Las Vegas"). Unlike its TV predecessor, this Bilko bilks the audience. (Nonetheless, the sound and picture transfer are excellent.) (MCA/Universal; 95 min, VHS) August 1996
THE CABLE GUY

This misconceived comedy features Jim Carrey as an over-the-top cable repairman who lives and breathes old TV programming and wants life to evoke My Three Sons (he even calls himself Chip Douglas, one of the sons). Speaking, for no discernible reason, with a lisp, the weirdo cable guy latches onto sad sack nerd Steven Kovacs (Matthew Broderick) as his special friend. From then on, the movie becomes a demented love story and a modern-day Faustian tale, as the innocent Kovacs is swept into a world of violence, sex, and old TV references. When Kovacs wants out, however, the movie turns ugly with spurned "lover" Cable Guy out for revenge. The satirical point seems to be that repeated viewings of TV shows can "rot the mind," but one exposure to The Cable Guy could cause even worse damage. Neither comedy nor drama, the movie does have one in-joke: that any studio would pay Carrey $20 million for this turkey. (Columbia TriStar, 96 min., VHS) 1996
THE NUTTY PROFESSOR
Eddie Murphy delivers a virtuoso performance in this remake of Jerry Lewis's classic 1963 Dr. Jekyll and Mr. Hyde spoof. Murphy plays both Sherman Klump, a 400-pound homely professor who fiddles with science in the pursuit of love, and his alter ego, Buddy Love, the man with the raging super-ego. Love is a nasty parody of Murphy's well-known hip persona (just as Lewis's Love was a savage parody of his ex-partner Dean Martin), and the actor is excellent in both roles, demonstrating a flair for character work not seen since his days on Saturday Night Live. (In a special effects tour-de-force, he also plays all the adult members of his outrageous family.) Murphy is especially touching as the lonely Klump, a proud, clumsy man, who in the end, should become a hero to weight watchers. Indeed, this funny film (unfortunately with an excess of fart jokes) has an uplifting message: accept people for who they are, not for what they seem to be. (MCA/Universal, 96 min, VHS) September 1996
SPY HARD


Fans of The Naked Gun movies should enjoy Spy Hard. Ostensibly a send-up of the James Bond movies, the film is an excuse for the juvenile gagwriters to crowbar in moments from Speed, In the Line of Fire, Home Alone, Butch Cassidy, ET, Pulp Fiction, True Lies, and Sister Act. The thin storyline could have come right out of recent Bonds: super spy Dick Steele (Leslie Nielsen) battles his old nemesis, General Rancor (Andy Griffith?), who is threatening the world with mass destruction. Along the way, there are bad puns, dumb visual gags, and deadpan dialogue poking fun at the idiosyncrasies of spy movies in general and 007 flicks in particular (Steele likes his drink "stirred not beaten"; Weird Al Yankovic sings a 007-style theme song: "He lives for the thrill/Always has places to go, people to kill"). The big question, though, is why bother? Bond movies – almost self-parodies themselves these days – were spoofed long ago, and with much more finesse, by TV's Get Smart. Sorry about that, Dick. (Hollywood Pictures; 81 min, VHS) September 1996
TIN CUP
Ron Shelton is the poet of the underdog, the scribe of the improbable. His biggest hit was Bull Durham, an unlikely story of love and baseball in the minor leagues. That 1988 movie made a star of Kevin Costner as a cynical ballplayer, but neither Shelton nor Costner has been quite as wonderful since. Following the debacle of Waterworld, the star has returned to director/co-writer Shelton and safer ground in Tin Cup. He plays a down-on-his-luck golfing genius who tends to blow success by going his own way – trying to beat the odds – at crucial moments. Costner, with his drawling delivery and piercing stares, is perfect as the none-too-bright golfer, but Rene Russo as his love interest doesn't know how to play a wacky intellectual. Nonetheless, the film is an enjoyably predictable story about risking everything to be your own man. The movie's sentiments may be pure Hollywood, but they are also the key to its offbeat charm. (Warners, 125 min., VHS) 1996
KINGPIN
Take this for a comedy premise: a naive Amish man teams up with a pot-bellied, balding ex-bowling genius who has a hook for a hand to win a million- dollar bowling prize. Cast Randy Quaid as the Amish, Woody Harrelson as the cynical, balding bowler, add in a karate-chopping femme fatale (Vanessa Angel), two hit men, striptease shows involving the Amish, and Bill Murray as a sleazy con man and you've got someone's idea of a hit comedy. Not mine, however. Kingpin is dumb, sentimental, and inept, a throwback to Jerry Lewis at his worst. Kids brought up on Saturday Night Live's in-your-face humor will presumably love the simple-minded gags and cartoon characterizations concocted by writer-directors Peter and Bobby Farrelly, who also ground out the hit Dumb and Dumber. But for the rest of us, there's an important lesson: improbable premises can work – if they're funny. (MGM/UA, 113 min., VHS) 1996