Charlie Chan
---
Aphorisms and ax-murders Detective Chan at Theatre 80
[[wysiwyg_imageupload:865:]]
Warner Oland and Boris Karloff in Charlie Chan at the Opera.
By TOM SOTER
from COLUMBIA DAILY SPECTATOR November 11, 1977
For those who are interested, oriental sleuth Charlie Chan didn't actually spring full-blown from a Hollywood scriptwriter's head. He is really the creation of American novelist Earl Derr Biggers (1884-1933), who wrote six Chan books between 1925 and 1932 upon which 46 "B" films were built.
Chan is best remembered now for his "wise and witty" Chinese aphorisms, which were often anything but that. A good one: "Alibi, like dead fish, cannot stand fest of time! " and a bad one: "Murder like "potato chip: cannot stop at just one."
In reality, however, Biggers had intended his affable Chinese detective lo work against existing stereotypes. "Sinister and wicked Chinese are old stuff," the author once explained, "but an amiable Chinese on the side of law and order had never been used." The sleuth was such a success, in fact, that. he spawned a series of literary"imitations (among which J. P. Marquand's Mr. Moto is the most "noteworthy example) and, of course, the rash of Chan films that began in 1926 with the silent House Without A Key based on .the initial novel, and starring George Kuwa as the detective.
The studios quickly gobbled up the - remaining five books; however, it was only with the last two that they hit on the formula that was to make them famous. With Charlie Chan Carries On, in 1931, Swedish actor Warner Oland (1880-1938) took over the role, and introduced the aphorisms (many of which he wrote) and formula situations that were ultimately to bring the series so low.
This weekend, the Theatre 80 St. Marks, which is known for its revivals of obscure films, is ressurecting what many consider one of Oland's best installments, Charlie Chan at the Opera (1935). This one was directed by E. Bruce Humberstone. and featured a special "opera" composed (by Oscar Levant) especially for the film. Boris Karloff appears as a baritone escapee from a mental asylum who is suffering from amnesia, and Margaret Irving is his wife, the mysterious Mme. Lilli Rochelle. As one critic put it, Opera is "a felicitous blend of the mystery and musical genre with unintentional high camp bridging the two styles most successfully. "
Also on St. Mark's double bill is Charlie Chan at Treasure Island. Made in 1939, this was one of 20th Century Fox's last Chan entries (the series was later produced by Monogram, notorious for bottom-Qf-thebarrel B films), and also one of the best featuring Oland's successor, Sidney Toler. Toler was hardly in the same acting class as Oland (who had also appeared in Josef Von Sternberg's Dishonored and Shanghai Express, the latter with Marlene Dietrich), and the series suffered as a result. Treasure Island features Cesar Romero, Pauline Moore and Gerald Mohr as the evil Dr. Zodiac. The story, essentially a "locked room" murder case, begins with a man found dead on a plane just landing in San Francisco and proceeds with the suspects to the Great Fair at Treasure Island. It's amusing hokum, though the "surprise" ending isn't much of one, thanks to the revelatory formularization the series had fallen into.
As William K. Everson has astutely pointed, "There was never much mystery about any of the 'hidden killers' in the Chan movies, nor much variety in their unmasking. Invariably, Chan would ather all the suspects in one room, detail ach one's participation in the case, and finally turn on the guilty party with a complacent 'You are murderer!' No rlatter how cunning the killer had been up until that point, he would invariably throw in the towel right away, or perhaps rasp, 'Very clever, Mr. Chan' and make a halfhearted attempt at escape. Since in many cases Chan was just bluffing ... a little more self-assurance ... on the part of the murderer would probably have enabled him to get the better of the detective.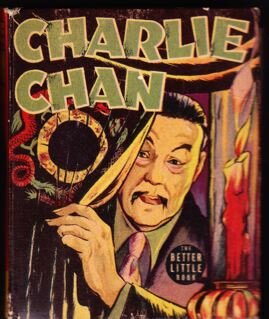 Big Little Book, 1939.
Later episodes featured such enticing titles as Charlie Chan at the Wax Museum. Charlie Chan in Panama (investigating the canal, no doubt), and Charlie Chan in the Secret Service. Toler continued in the role until his death in 1947. and was then replaced by TV actor Roland Winters, who was probably the most dismal Chan of all in the final six chapters be made between 1947 and 1949.
Following that, there were a few TV appearances by the sleuth (who also had a radio program and a newspaper strip at one time), but thankfully, the last word seems to have come from Biggers himself. In 1976, Bantam Books began reissuing the six Olan novels. For those who were brought up on the Saturday morning reruns of the detective's films, these books· will provide quite a surprise. They're a bit dated, but they're also charmingly good mysteries.
As the Nation commented in an obituary editorial, "Biggers' detective fiction was also good literature and Chan symbolized the sagacity, kindliness and charm of the Chinese people: his epigrams redistilled the wisdom of the ages in a new and captivating fashion." Charlie couldn't have said it better.